Welcome to School Made Simple!
CalcuLadder™
AlphaBetter™
ReadyWriter™
SanctiFinder™
math skills
alphabetizing skills
penmanship skills
Bible skills
...the acclaimed

Learning Vitamins

™ series!
I wish all our curriculum was this easy
and got this kind of results. - Mrs. Elizabeth B., NJ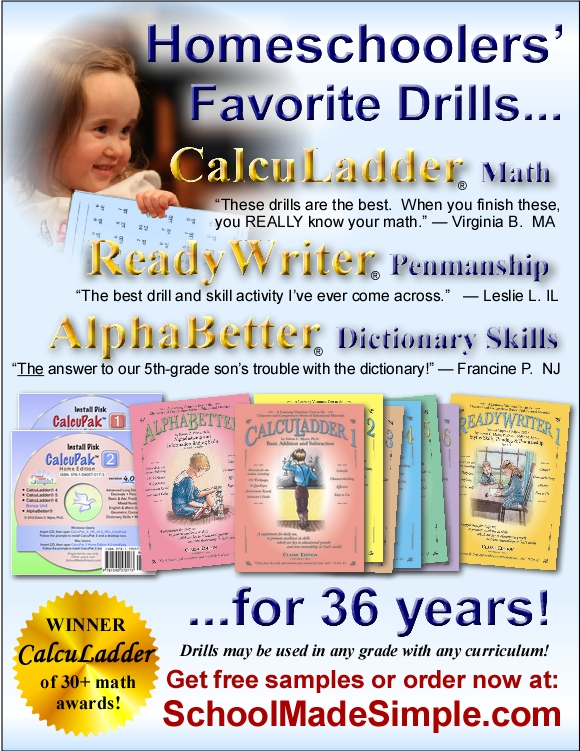 Learning Vitamins are some of the most effective, easy-to-use learning aids you're likely to find for math, penmanship, and alphabetizing skills.
Here's why Learning Vitamins are a great choice for you:
Learning Vitamins —
help kids get facts down cold and skills down pat
are easy to use and take just minutes a day
make weak areas stand out, helping you teach where needed most
change slow, awkward struggle into fast, confident skill
turn conceptual knowledge into practical know-how
build character thru a relevant Bible text on each page
Since their introduction a generation ago, Learning Vitamins have proven to be among the most adaptable, versatile, and useful educational supplements of our time. In fact,
Learning Vitamins have been used —
by tens of thousands of homeschooling families
by over 800 private and Christian schools & educational organizations
in highly developed areas and primitive environments
across the USA and in over 60 countries in every part of the world
Learning Vitamins work becaue they use a simple, direct, and carefully sequenced approach to skills mastery.
Just what are Learning Vitamins?
Learning Vitamins are —
a supplemental program of quick, potent, one-page, timed drills
carefully sequenced, combining new material with ongoing review

fully reproducible

- buy once, then use with all your students
for daily use, to make skills really "click" in just minutes a day
great for tutorial, full classroom, small group, or self-study
perfect for remedial, review, summer brush-up, normal, or accelerated/gifted use
For a generation, Learning Vitamins - the CalcuLadder math series, AlphaBetter alphabetizing drills, SanctiFinder Bible book drills, and ReadyWriter penmanship have thrilled students worldwide!

CalcuPak 1 and CalcuPak 2
Now, the classic Learning Vitamins are available in two easy-to-use formats —
CalcuPak™ 1 and 2

Software Applications, where you can browse, select, print out drills, keys, & achievement records with ease! Print out as many copies of the drills as you need them, when you need them!
CalcuPaks are available in the Home Edition for single-family use, the Teacher Edition for single-classroom use, and the School Edition for school-wide use.
AND the

NEW Super Slate™,

featuring the printed, hard-copy drills - CalcuLadders 1-6, AlphBetter, and ReadyWriter! The SuperSlate features a plastic transparent overlay, on which the student writes his/her answers. Flip the drill worksheet over to see the QuicKey for immediate scoring. Simply wipe off the overlay with a tissue, so your students can use the drill sheets over and over without ever having to print or reproduce new drill sheets!
So . . .
---