CalcuLadder™ Math Drills...
turn finger-counters
into number-crunchers!
"By far the best new math resource I have seen (and used!) this year... The whole program takes only about five minutes a day, and let me tell you, it really does increase calculation ability and speed!"
—Mary Pride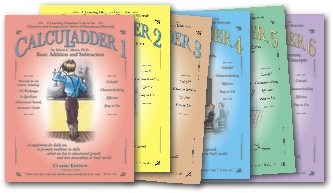 CalcuLadder math drills are famous for 'turning finger-counters into number crunchers!' Developed a generation ago by Dr. Edwin Myers, CalcuLadder is the tried and true resource used across the USA and some 60 countries the world over. Today, the Learning Vitamins have been used by over a MILLION students worldwide!
CalcuLadder Features
Graphics that "grow" up the page add to the fun!
Time goals add challenge, build speed!
Clever QuicKeys® make grading a breeze!
A Bible verse at the foot of the page that relates to each drill's topic!
Achievement Record chronicles student progress!

Click HERE to Get Free CalcuLadder Samples!
The CalcuLadders are a series of six one-year units spanning 16 drills each. Although the units are named CalcuLadder 1 through CalcuLadder 6, any CalcuLadder unit may be used as needed at any grade level along with any math curriculum, or as its own stand-alone curriculum! The CalcuLadder drills are carefully-designed in a sequence covering every area of mathematics skills from First Grade through Pre-Algebra.
How CalcuLadder works...
Children have so much fun repeating a given drill each day until they can complete it correctly with­in that drill's suggested time goal! The time goals range from two to five minutes. Most kids can advance one drill level every few days.
The CalcuLadders are available in two user-friendly formats:
1. Software to print out the drills: CalcuPak 1 software includes CalcuLadder units 1-3 & ReadyWriter and CalcuPak 2 software inducles CalcuLadder units 4-6 & AlphaBetter. Using your CalcuPak software, you can print out CalcuLadder drills, plus QuicKeys, and Achieve­ment Records.
2. Pre-printed Drill Masters with the SuperSlate: CalcuLadder units 1-6 are available in hard-copy, pre-printed format, accompanied by our SuperSlate, so you can use your drills again and again!
Note: we do have the CalcuLadder 1-3 Instructor's Guides and QuicKeys available in Spanish. We can provide them to our customers for free upon request.
CalcuLadder Math Skill Areas

Click on a highlighted title below for more information, and TO SEE images of the actual drills contained in that unit:
CalcuLadder 1

basic addition
basic subtraction

CalcuLadder 4

intermediate & advanced division
place values, rounding, estimating
intro to fractions
decimals in addition, subtraction, multiplication, division

CalcuLadder 2

advanced addition and subtraction
basic multiplication
telling time

CalcuLadder 5

basic fractions addition, subtraction, and terminology
reducing, cancelling, LCD, etc.
advanced addition, subtraction, multiplication, and division of fractions and mixed numbers

CalcuLadder 3

advanced multiplication
basic division

CalcuLadder 6

fractions review
percents, Roman numerals
English and Metric units
Converting between units
Polygons, geometric concepts, finding areas
Tens of thousands of families from the USA and around the world have used CalcuLadder with great results.
"They are short, easy, and effective.
The kids love them!"—Mrs. Janis L. MT

---
CalcuPak 1 and CalcuPak 2 Home Editions are just
$29.95 each via download
$35.95 each + shipping for CD (USA only)
or order both Paks and save more!
The CalcuPak Teacher's Edition and School Edition are also available on our order page.
Each Pack of pre-printed CalcuLadder Master Sheets with the SuperSlate is just $25.95!